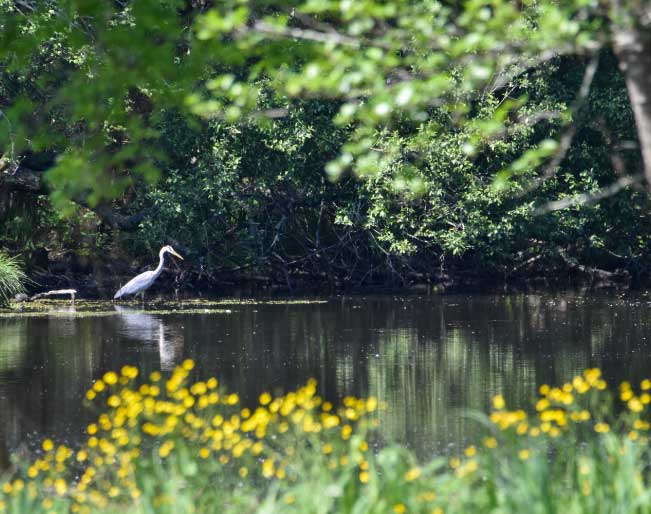 Respecting our territory
and encouraging biodiversity
The Margaux appellation is characterized by a great diversity of landscapes: its vineyards (representing 22% of the commune's area) are bordered by woodland (33%) and meadows (9%). These natural areas, that together form a substantial proportion of the Margaux region, include the Labarde and Soussans marshes, which have been designated Natura 2000 protected sites.
This exceptional terroir and landscape constitute a precious heritage that we must nurture and care for. Aware of the challenge of getting vineyards to adopt more virtuous practices that respect both people and the environment, the appellation's collective of winegrowers has been working on a new approach. Several actions have already been launched to preserve and restore environmental diversity.
Today, 80% of vineyards have obtained some form of environmental certification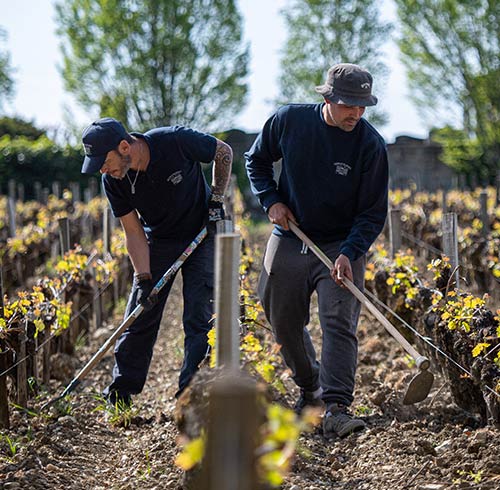 Since 2015, our winegrowers have been involved in a collective approach called "Margaux Terroir de Biodiversité" which strives to preserve biodiversity. Numerous actions have already been implemented to improve practices and encourage ecological connections between the various natural environments that surround the areas where the vines are concentrated.
Backed up by scientific expertise to ensure the rigour of the methodologies deployed, a diagnostic approach was undertaken by means of studies to increase our knowledge of the life in the soil, heritage fauna and auxiliary fauna. These made it possible to determine actions that could be carried out by winegrowers, such as the restoration of ecological continuity and water conservation.
Key aspects of sustainable viticulture
The vines tend to be concentrated in large blocks in certain areas, so that in such areas there are now relatively few refuges for fauna and flora. To remedy this homogenisation of the landscape, the winegrowers have undertaken the planting and maintenance of rural hedges (10km), and adopted the practice of mowing the vegetation in ditches and around the edges of plots later than previously (150 hectares of late mowing)
The appellation's soil tends to be permeable, well-drained and not very fertile. Rainwater (about 800 mm/year) takes different routes, either running off or being absorbed, depending on whether or not the soil is covered with vegetation.
Aware of the consequences of winegrowing practices on the quality of water, which is essential to life, winegrowers have mobilized to:
reduce the use of inputs: 82% of the vines are herbicide-free,
encourage absorption of water by the soil and reduce erosion by restoring an ecological network in the vineyards (hedges, late mowing).
The ambition is to make these practices widespread.
An inventory of local wildlife beneficial to viticulture was made in 2015: 185 species of bees, 52 species of birds, 17 species of bats and 30 species of butterflies have been recorded by the LPO (French League for the Protection of Birds). Four initiatives have been established to encourage the development of this biodiversity: late mowing around plots, maintenance and planting of hedges and isolated trees, and the sowing of plots that have been left fallow after the pulling up of vines.
Today, 350 actions have been implemented, representing 150 ha of late mowing, 10 km of hedges and 42 ha of fallow plots. The widespread, more massive adoption of these practices remains an important challenge for the appellation.
While the geological characteristics of the soil in wine-growing areas has been studied for many years, those of the life forms in such soil is a relatively new subject. From 2018 to 2020, the Margaux Appellation participated in a research project aimed at understanding this biological aspect of the soil in order to identify the practices that best preserve it (PhytAE project). The soil at 23 properties was analysed to study its biodiversity. In terms of both species and numbers, there were more beneficial predators, such as spiders (103 species) and ground beetles (52 species), in plots where ploughing was less frequent and less deep.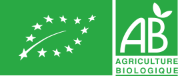 French and European certification
This approach is based on a guarantee that no synthetic chemicals are used. Agriculture Biologique (Organic Agriculture) certification, symbolized by one of the two logos, is issued by an independent body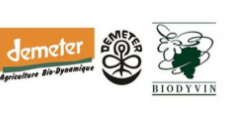 This certification is based on compliance with certain specifications and is awarded by inspection bodies such as Demeter and Biodyvin. It is a form of organic agriculture based on the use of composts and natural biodynamic preparations.

for a period of three years
HEV or High Environmental Value certification takes into account the impact of agricultural practices on the natural environment. The highest level of certification is level 3 (HEV3). The latter represents a level of excellence based on the respect of four indicators: biodiversity, phytosanitary strategy, management of fertilizers and water resources.

TERRA VITIS
CERTIFICATION
This environmental certification takes a continuous improvement approach, based on environmental, economic and social aspects of sustainable development. It is obtained by complying with a set of specifications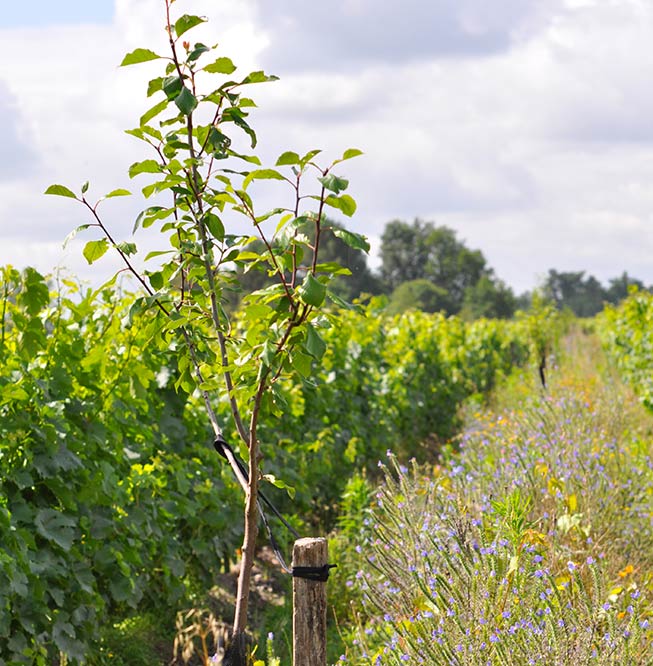 Since 2013, Margaux's winegrowers have been involved in a process aimed at preserving and restoring the environment's diversity: Margaux, Terroir de Biodiversité.
This approach was designed to bring together winegrowers, scientists, naturalists and other stakeholders in the region to focus on the subject of biodiversity: the union decided to join forces with VITINNOV* in 2013 and called on several specialists in nature protection (including the French League for the Protection of Birds and David Genoud).
This initiative has become richer over time with the development of new partnerships and projects, in particular with the communes in the AOC area and the Médoc Regional Nature Park (VITIPOLL project). It has received recognition from the Ministry of Agriculture through the GIEE scheme, and the support of institutional players such as the Conseil Interprofessionnel des Vins de Bordeaux (PhytAE project) and the Nouvelle Aquitaine Region (VITIPOLL project).
Since 2020, Terroir de Biodiversité has been part of a large-scale initiative organized by the Nouvelle Aquitaine Region, the VITIREV project, whose objective is to develop the winegrowing practices of tomorrow, that respect people and the environment.
*Transfer unit of the Institut des Sciences de la Vigne et du Vin (Institute of Vine and Wine Sciences), part of Bordeaux Sciences Agro
Discover our events
and contact us for more information.